Seasoned firewood isn't a luxury -- it's a necessity. We have dry firewood for sale that is cut, split, and stacked on 1/2-cord pallets (48"x48"x48") and delivered to your driveway, anywhere in southwest Washington (delivery fees may apply).

Note: pallets are for delivery only - we reuse them and do not leave them with the customer.
We offer several species of firewood for sale: Douglas fir, alder, maple, walnut, cherry, and others.
Want to save money but still get firewood? We offer a discount if you come by and haul the firewood yourself -- we are only a few miles from Vancouver, WA and Portland, OR.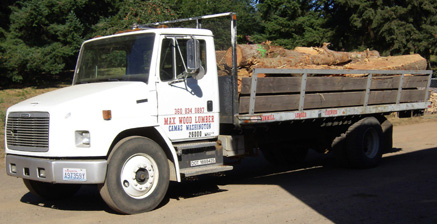 Doing our part to use the Earth's resources wisely, we perform log salvage for customers. We gently remove unwanted downed trees from woodlots, and make these firewood logs available to firewood customers who want to save even more money by processing their own firewood. We can deliver firewood logs anywhere in southwest Washington, using our flatbed dump truck. The average load is 5 tons (approx. 2 ½ cord).
Call for Firewood Pricing: 360-834-0897